World Of Coffee Athens 2023
World of Coffee-2023 ATHENS
We had the pleasure of attending WOC 23′ in Athens this past weekend.
The event was jam packed with the following;
ROASTER VILLAGES
BEST NEW PRODUCT COMPETITION & DISPLAY
COFFEE DESIGN AWARDS
LECTURES
WORKSHOPS
CUPPING ROOMS
BREW BAR & ESPRESSO BAR
WORLD COFFEE CHAMPIONSHIPS
GREEN COFFEE BUYERS & SELLERS PROGRAM
So, an action-packed few days with lots to see, do and taste.  There is also the chance to catch up with friends and suppliers from around the coffee world and check out the new innovative products on show.
One such product was the Squeaky Clean coffee grinder cleaner.https://squeaky.coffee
The guys were dressed in NASA suits on their stand and very friendly and informative on why they've designed and produced this product. It was interesting to see competitors on the world stage use it too.
Anyone who knows me, knows I am a sucker for a new coffee gadget 🙂 So naturally we had to pick a few up for testing. We also got to see and use the "King Eddy" a Weiss distribution tool that looks awesome.
Some other really impressive new products were on display and none other than the "Coffee Cosmetics" from Hardbeans in Poland. https://hardbeans.com/
Their array of coldbrew, cocktail and cosmetics was truly impressive!
We got a chance to see the new Tone brewer and catch up with the guys for a brew, also Coffee Tech to chat all things roasters. Interesting to see Ram who designs and builds the roasters his finally launched his stethoscope for first crack 💪🏻.
We dropped by the Roest stand for a brew with two coffee legends Tim Windelbow & Scott Rao. Their brews were dialled in nicely 😂😂.
We tasted so many different coffees but some that stood out were Guariroba Coffee, a  COE farm from Brazil http://www.guarirobacoffee.com
Our dear friends Cafe Granja La Esperanza (whose coffee won the World Brewer's Cup) with Carlos Horacio Medina Isamit. https://cafegranjalaesperanza.com
I also got to meet another coffee partner Nestor Lasso (whose coffee won the World Barista Championship)
No trip would be complete without seeing Valentin from Gasharu another long time partner and good friend. https://www.gasharucoffee.com
Valentin presented a certificate of appreciation to us for our ongoing relationship which was a really nice touch.
He also gave us the upcoming seasons coffee samples.
Last but not least I got to see and chat to one of my favourite (and everyone else's it seems) coffee people Martin Shabaya. https://medium.com/@FilterStories/berries-lemon-episode-3-1c960f7aad8b
Myself and Martin have been close friends ever since our encounter at the World of Coffee Dublin and its always a pleasure to see him. ❤️❤️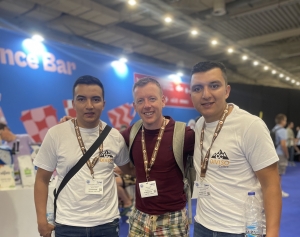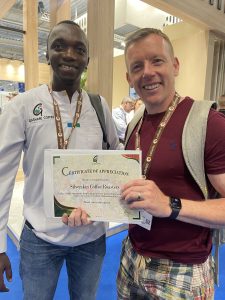 https://silverskincoffee.ie/wp-content/uploads/2023/06/IMG_1379.jpg
3024
4032
owner
https://silverskincoffee.ie/wp-content/uploads/2020/10/silverskin-2020-b.png
owner
2023-06-27 07:53:42
2023-07-03 20:24:57
World Of Coffee Athens 2023